James Peckham
The Samsung Galaxy S20 launch is now over – an event Samsung is calling Galaxy Unpacked 2020 – and we saw the company introduce five new devices on stage in San Francisco.
You can read all about the launch below as it happened, plus we've included links to all the most important coverage we think you should catch up on about the brand new Galaxy S20 and Galaxy Z Flip.
James Peckham
There's also the Galaxy S20 Ultra and Galaxy Buds Plus that you should read about as well.
Samsung Galaxy S20 launch live blog
James Peckham
All times in US Pacific Time (PT)
James Peckham
12:05 – Thanks for reading along with us as we covered the event. We're just going to sum up all of our coverage so far, but you can expect some extra pieces coming your way over the event so be sure to check the homepage to ensure you don't miss out.
James Peckham
12:04 – That's it – the show is over. We're now watching a video of the Galaxy S20 as a reminder of what we've just seen over the last few hours.
James Peckham
12:03 – One last thing was just muttered on stage, so it's almost over. Samsung is introducing a new eco-friendly cover for your Galaxy S20 phone… that's not exactly a groundbreaking innovation to end on here.
12:01 – Google wanted to talk about some more Android features that are available on Samsung devices. This includes a new mode for the Galaxy Z Flip in Android's YouTube Premium service as well as Google Duo (the video calling app).
12:00 – While Google introduce whatever they want to talk about, you can find the Galaxy S20 prices for the US below. Note that there isn't an option to buy a 4G version of this device if you live in the US.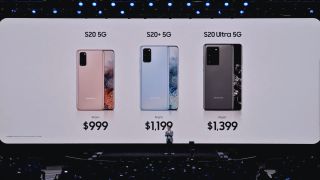 James Peckham
11:59 – Samsung has now invited a Google spokesperson on stage, and we've yet to learn why they're here… another partnership incoming? Let's find out.
11:57 – There's also set to be an Olympic competitors edition of the Galaxy S20 series. It comes with the Olympic logo emblazoned on the rear, and we don't know how many Samsung is set to make.
What's to stop you buying one even if you're not an athlete? We have no idea, but surely Samsung is set to put some sort of barrier to entry in place.
11:54 – Fingers crossed we'll be able to try these headphones out as soon as possible and get you our first thoughts on the new true wireless experience.
11:52 – Samsung just confirmed its next pair of Apple AirPods competitors, and they're called the Galaxy Buds Plus.
We've yet to properly try these out, but Samsung claims you can easily swap between Samsung devices by tapping the earphones. They also work with iOS, so if you have an iPhone these will work like the first-gen device.
James Peckham
These are set to last for 11 hours with a full charge, plus there's a charging case that will give you another 11 hours as well. You can read all about the rest of the Galaxy Buds Plus details here.
11:51 – All of the partnerships today! Samsung has also partnered with Xbox to make a premium mobile game streaming experience. We've yet to learn exactly what that means, and we won't hear more about it until later in the year.
11:49 – We're moving onto mobile gaming now, and one of the variants of this phone comes with a whole 16GB of RAM. That's madness and seems quite unnecessary on a phone.
We've yet to properly put that through its paces though and it may always change the entire experience of gaming on your phone.
11:47 – We've already got the US pricing confirmed, and you can find that in the hands on articles you'll find above.
11:45 – This isn't something from the stage but we've just had pricing confirmed for the UK for the new Galaxy S20 series. Nothing on the Galaxy Z Flip just yet.
The Galaxy S20 is set to cost £799 for the 4G version and the 5G variant will cost £899. The Galaxy S20 Plus only comes in 5G and it's available for £999 while the Galaxy S20 Ultra costs £1199 for the 128GB and £1399 for the 512GB.
That's a lot of money for that top-end Galaxy S20 Ultra…
James Peckham
11:42 – Netflix and Samsung have a new partnership, and the streaming company believes this will be the best mobile experience for streaming Netflix. It looks to be behind the scenes content for some of its biggest shows.
An example for popular show Narchos was shown, but we didn't recognize the other shows shown on the screen. Sadly nothing about Stranger Things… yet.
We thought this was going to be about improved streaming quality over 5G or something, but this seems to just be related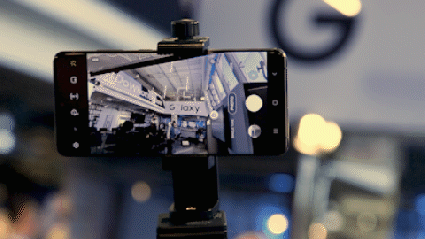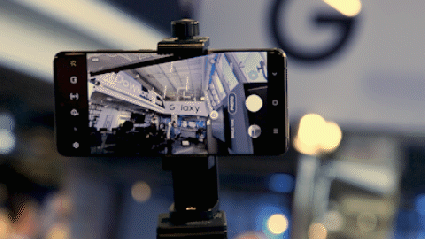 James Peckham
11:41 – You can see an example of how the 100x zoom works above.
James Peckham
11:39 – We've just been watching some presenters show off the 100x zoom feature on the Galaxy S20 Ultra and while they were quite annoying to listen to they did show a good example of how the feature works.
11:33 – We're now diving into the camera capabilities of the Samsung Galaxy S20 Ultra. It has a 108MP camera that Samsung claims is its highest quality smartphone camera yet.
That's a feature just for the Galaxy S20 Ultra, so don't expect this sort of camera quality on the S20 or S20 Plus. It has an up to 100x zoom, which we've used and it was quite impressive.
James Peckham
11:30 – You can record video in 8K on the Samsung Galaxy S20 series. You can upload 8K straight into YouTube with this phone, but obviously it won't be able to play on your phone in 8K as these devices just have a WQHD+ resolution.
11:28 – There's a new mode called Single Take that allows you to get a handful of best shots including video clips and Boomerangs by just hitting the button once. You'll then get to pick which photo you want to use.
11:26 – Now we're into camera, and that's clearly the other big focus here on alongside 5G. Apparently this camera is all quality, quality, quality in all conditions.
Apparently Samsung has changed the way the Galaxy S20 series captures too… let's see how they justify that.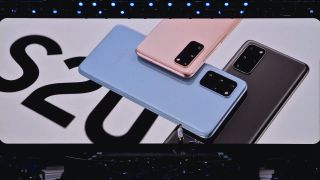 James Peckham
11:23 – In a surprise reveal, it turns out the whole live stream so far has been recorded on a Galaxy S20 device. We expect that was actually a Galaxy S20 Ultra, but we don't know for certain.
11:22 – Finally… perhaps the most leaked device in history – the Samsung Galaxy S20 has just been shown on stage at Unpacked. In fact, it just showed the three new Galaxy S20 devices.
To be a hundred percent clear, that's the Galaxy S20, Galaxy S20 Plus and Galaxy S20 Ultra. The Ultra is the top-end device of the family and is set to cost the most money.
James Peckham
11:19 – Lots of focus on 5G during this press conference, and it's clearly the company's big push for 2020. There are 5G variants of all the Galaxy S20 series this year, and which ones you can buy will depend on where you live.
For example, the Galaxy S20 is available in 4G and 5G variants in the UK. The other two devices are restricted to just 5G options. While the whole Galaxy S20 series are 5G-only in the US.
11:17 – We're now talking through the Galaxy S series and giving some shout outs to the company's CEO DJ Koh. We'd quite like to see the Galaxy S20 on stage now please.
James Peckham
11:15 – A man just walked through a tunnel like he was entering the stage like a rockstar. He's here to tell us all about the Galaxy S20 series, and Samsung is focusing on the fact it's 2020 as its justification for not calling these phones the Galaxy S11.
11:13 – Oh, and there was something about a fashion partnership for a special edition Tom Browne version of the Galaxy Z Flip. We were too busy talking about the Galaxy S20, so we didn't really catch much about that.
11:12 – Three other devices have yet to be announced on stage, but we've already published our first experiences with the Samsung Galaxy S20 series of devices. Below you can read our first impressions with the three:
James Peckham
11:10 – February 14 is the launch date for the Galaxy Z Flip, and that's a matter of days away! It's set to cost $1380, which isn't cheap. We've yet to learn about how much it'll cost in the UK or Australia.
11:09 – We've put a gallery of shots of the device below as Samsung has yet to share much spec about the phone so it'd be best for you to be able to see what the device looks like.
Image 1 of 5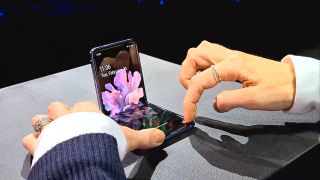 Image 2 of 5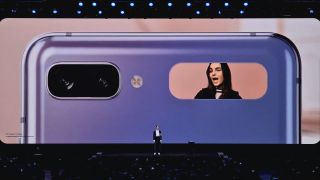 Image 3 of 5
Image 4 of 5
Image 5 of 5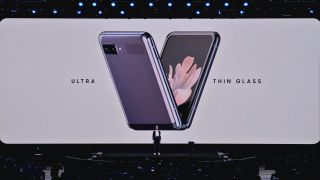 James Peckham
11:06 – It's an odd looking device that is clearly set to compete with the Motorola Razr 2019 in terms of being more easily pocketable than the Samsung Galaxy Fold.
Samsung is excited to show off its new hinge that the company claims will be more durable than other options. Remember when Samsung had to delay the Galaxy Fold for similar reasons?
James Peckham
11:05 – This phone can be folded over 200,000 times according to Samsung. I'm sure that'll be put through its limits. It's available in three colors of gold, black and purple.
11:02 – We're in, and it's starting with the most exciting product. It's the Samsung Galaxy Z Flip straight away. Lots of talk about whether it's pronounced "Zed" or "Zee". 
James Peckham
10:15 – We're sat down ready for the event in London to begin, and you can see our slightly overwhelming view below. Please pray for our eyes from these very bright lights.
It's going to be a bit of a struggle to see the screen at the #SamsungEvent in London pic.twitter.com/sRrtVJAFqEFebruary 11, 2020
James Peckham
09:05 – We're just about to head off to the event in San Fran as well as the one in London. Wish us luck in getting there on time so we can keep this live blog up and running when we're there.
08:30 – This is a bit of hectic day with lots of announcements including Royole and Vivo pulling out of MWC, the Huawei Mate 30 Pro coming to the UK and much more happening alongside the S20 launch.
07:55 – We've moved onto breakfast now in preparation for a long day ahead. As we've been drinking coffee, we've noticed the livestream for the Galaxy S20 launch has been published on YouTube.
You can watch it directly using the embed below or you can read our how to watch the Samsung Galaxy S20 event if you want an alternative to YouTube.
James Peckham
07:04 – Sunrise in San Francisco! Can't be long to go now. Just four short hours… Okay, there's still quiet a wait. Don't forget to have your say in our Twitter poll.
06:00 – As we wake up on the West coast of America, if you're still hankering for your fix of mobile news then you'll want to check out our MWC 2020 coverage.
The huge phone show takes place at the end of February in Barcelona, Spain, and we'll be reporting live from the conference to bring you all the latest news from the likes of Huawei, Sony, Motorola, Nokia and more.
05:00 – A good way to predict what will happen at today's Samsung event is to look back and see what happened at Unpacked 2019.
And it was a busy event, with four S10 phones (the S10, S10e, S10 Plus and S10 5G), the Galaxy Fold, Galaxy Watch Active, Galaxy Fit and the Samsung Galaxy Buds.
James Peckham
04:00 – Aside from the handsets, and potentially a new set of wireless earbuds, could we see more new products launched at Samsung Galaxy Unpacked 2020? It's less likely, but there have been rumors about a new smartwatch and potentially a new tablet too.
In 2019, Samsung launched the Galaxy Tab S5e around the same time as the Galaxy S10 series, so we wouldn't rule out a Galaxy Tab S6e this time around. Meanwhile, the Samsung Galaxy Watch 2 has also been rumored.
It could well be a very busy event.
03:15 – Could this be the final leak of the Galaxy S20? It's likely considering the event is only eight hours away. Trusted Twitter leaker Evan Blass has shared an advert of the new devices, but it's only visible to some.
You'll have to follow him on Twitter to be able to watch the video. If you don't, you shouldn't be too worried and it's the exact design that we've seen before for the Galaxy S20 phones it's just that this time the devices are in motion.
James Peckham
03:00 – What are you most excited to hear about today? Have you say in our Twitter poll below.
What rumored gadget are you most excited to hear about at #SamsungUnpacked later?📱📞🤳February 11, 2020
James Peckham
02:30 – Hello all! It's 8 and a half hours until Samsung's next big launch event and we're set to talk you through everything that happens throughout the day ahead of the show, and during it too.
You've got plenty of time to catch up on all of the leaks so far, but if you're in a rush we've pulled together the big rumors on the new phones and devices we expect to see, below. 
Samsung Galaxy S20 – this is rumored to be the core device of the Galaxy S20 family with the smallest screen of the three devices but still sporting flagship spec.
Samsung Galaxy S20 Plus – the larger version of the phone is set to have similar spec to the S20 but it may come with a few extra additions like an extra rear shooter.
Samsung Galaxy S20 Ultra – this is a bit of a surprise phone here with recent rumors claiming it'll come with far better camera spec than the other two devices.
Samsung Galaxy Z Flip – we hadn't heard of this phone until a few weeks ago, but Samsung has already debuted it with an advert during the Oscars on Sunday.
Samsung Galaxy Buds Plus – it's heavily rumored a new pair of Samsung's Apple AirPods competitors will be debuting at the show too.
Samsung Galaxy Watch 2 – we've yet to hear much about it, but it may be we see a revamped Galaxy wearable at this year's big launch event.
Samsung Galaxy Fold 2 – it's unlikely we'll hear about another foldable phone alongside the Z Flip, but Samsung may surprise us come the launch event.
Original Source